Analyzing grocery app development costs is crucial to planning and budgeting for creating a successful grocery delivery app. Understanding the various factors that influence the cost can help make informed decisions and ensure efficient resource allocation. Analyzing the development cost involves evaluating factors such as app features and complexity, design and user experience, platforms and devices, backend development, admin panel and analytics, location and mapping services, payment integration, security and compliance, testing and quality assurance, team composition and location, and maintenance and updates.
By carefully examining these factors, businesses and app development teams can accurately estimate the cost of building a grocery delivery app. This analysis provides insights into the investment required, helps prioritize features, and allows for effective project planning and management. Ultimately, a thorough analysis of the grocery app development cost aids in creating a viable budget and ensures that the app is developed within the allocated resources while meeting the desired quality standards and user expectations.
What is a grocery app development cost?
The cost of grocery app development can vary significantly based on features, complexity, design, platforms, backend infrastructure, and team composition. Generally, it can range from tens to hundreds of thousands of dollars or more.
Type of Grocery Delivery Apps in India
On-Demand Delivery Application
Subscription-Based Mobile Apps
Store Specific Mobile Apps
Meal Kit Delivery App
Local Grocery Mobile Apps
Grocery delivery apps have become increasingly popular in recent years, providing convenience and efficiency to consumers who want groceries delivered directly to their doorstep. These apps offer various types of services to cater to different customer needs.
Here are some common types of grocery delivery apps
On-demand delivery
Apps allow users to order groceries from local stores and have them delivered within a specified timeframe. Customers can browse a wide range of products, add them to their virtual cart, and choose a convenient delivery slot. Popular examples of this kind of grocery app in India include Big Basket, Zepto, Blinkit, Dunzo, etc., View stats on the growth of the On-demand Grocery Delivery App!
Subscription-based Grocery Apps
Operate on a subscription model, where customers pay a recurring fee to receive regular grocery deliveries. Users can customize their orders based on their preferences and dietary needs, and the app automatically delivers the selected items at scheduled intervals. Amazon's Subscribe & Save, Big Basket Daily, FTH Daily, etc., are some of India's renowned subscription-based grocery delivery apps. 
Store-Specific Grocery Apps:
Many grocery chains have developed dedicated delivery apps, allowing customers to order groceries exclusively from their stores. These apps provide a seamless shopping experience, with access to the store's complete inventory, personalized offers, and loyalty programs. Examples include Walmart Grocery, D Mart, Jiomart, Metro Wholesale, etc.,
Meal Kit Delivery Apps:
These apps deliver pre-portioned meal kits containing all the ingredients and recipes needed to prepare a meal. Users can choose from various recipes, and the app delivers the necessary ingredients to their doorstep. In India, Fresh to Home & Licious Delivers the ready recipe of a dish. (Btw, the Licious mobile app is developed by us – GSA Techworld!)
Local Grocery Apps:
Some grocery delivery apps cater to local or regional markets. They collaborate with local stores and supermarkets to provide delivery services within a limited geographic area. These apps often emphasize supporting local businesses and sourcing products from nearby suppliers. Dunzo is the best example in India that works on this model. 
Each type of grocery delivery app offers distinct features and benefits. However, the common goal among all these apps is to simplify the grocery shopping experience and save customers time and effort. With the growing demand for online grocery shopping, these apps are likely to continue evolving and expanding their services to meet the changing needs of consumers
Stats about the On-demand Grocery App Development Cost
In the past 5 years, on-demand grocery delivery apps have shown phenomenal progress.
These apps have addressed and resolved real-time challenges faced by consumers such as: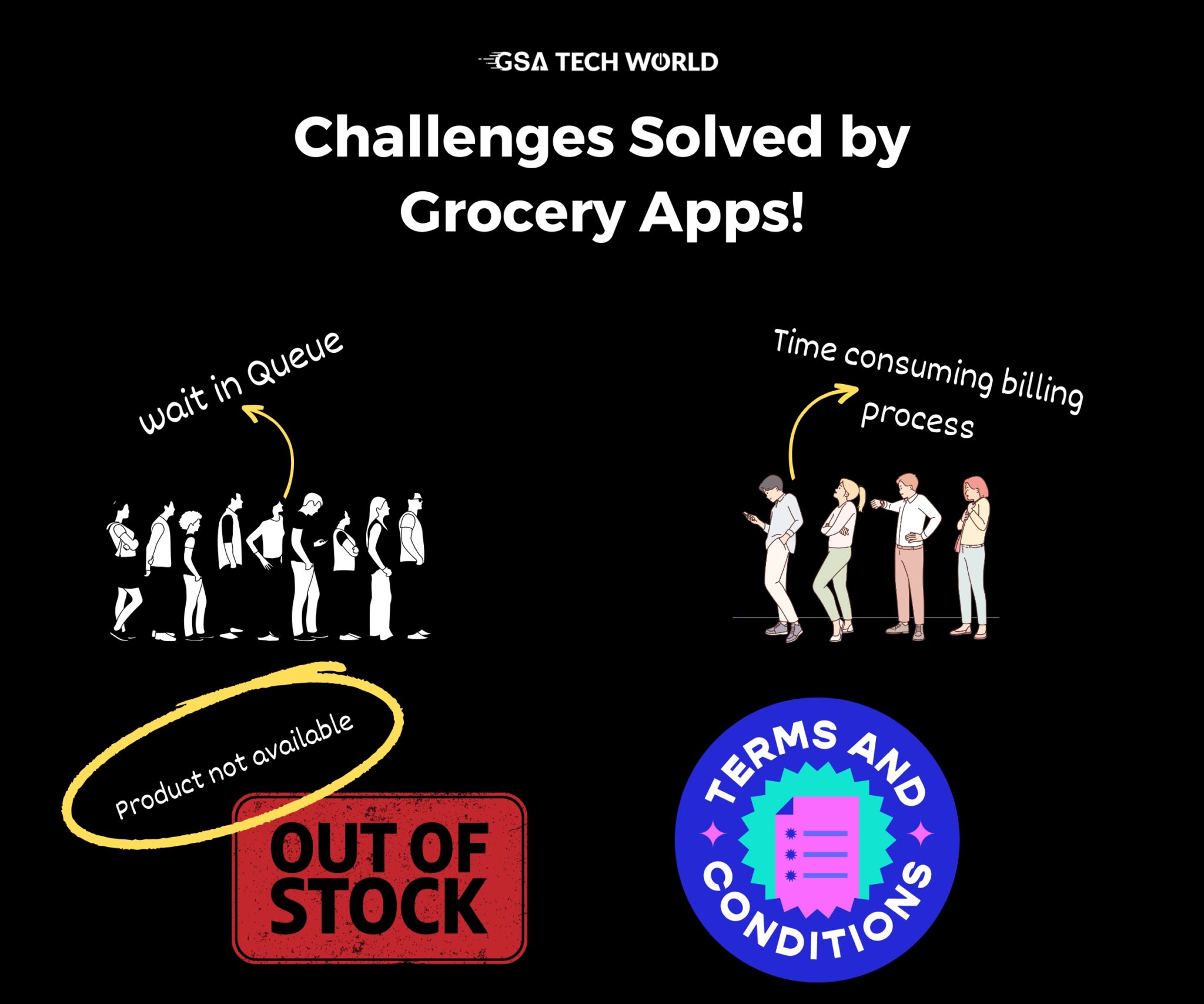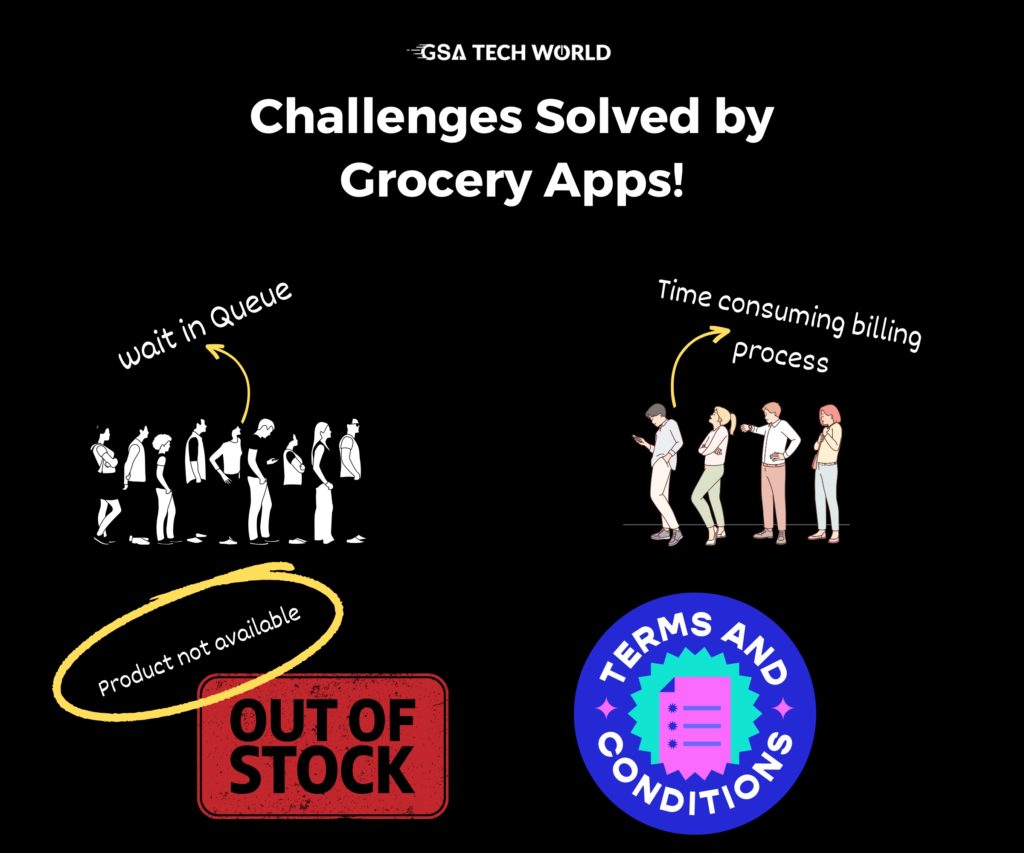 Since the advent of these applications in the market, we have seen
This category has seen a boom since 2019 when the pandemic hit the world. Since then, the apps serve consumers with more convenience to buy their groceries simply through their smartphones. The market is expected to reach $188 billion by 2024 as per the report by Statista.
Business Models for Grocery Delivery App Development
When developing a grocery delivery app, it's important to consider the business model that will drive its success and profitability.
Business Models for Grocery Delivery App Development:
Subscription Based Model
Markup Model
White-Label Model
Hybrid Model
Integrated Grocery Store Model
The commission-based model involves partnering with local grocery stores and charging them a commission on each order placed through the app. The app acts as a platform that connects customers with stores, handling the ordering and delivery processes. The commission percentage can vary based on factors like order value or product category. This model benefits startups as it requires minimal investment and can generate revenue from the beginning. Examples of apps following this model include Instacart and Postmates.
Subscription-Based Model
In this model, customers pay a recurring fee to access the grocery delivery service. The subscription can provide benefits like free or discounted delivery, exclusive deals, or access to premium features. This model offers a predictable revenue stream and encourages customer loyalty. Amazon Prime's grocery delivery service, Amazon Fresh, is an example of a subscription-based model.
Markup Model
With the markup model, the grocery delivery app sources products directly from suppliers or wholesalers at wholesale prices and then sells them to customers at a marked-up retail price. The difference between the wholesale and retail prices is the app's profit. This model allows for greater control over pricing and margins but requires establishing partnerships with suppliers and managing inventory. Boxed is an example of a grocery delivery app that follows the markup model.
White-label Model
In the white-label model, the app is developed as a customizable solution that can be branded and customized for different grocery stores or chains. Grocery retailers can license or purchase the white-label app and tailor it to their specific brand and requirements. This model allows grocery chains to have their own branded delivery app without investing in extensive development. It also provides consistency across multiple locations. FreshDirect's FoodKick is an example of a white-label grocery delivery app.
Hybrid Model
A hybrid model combines multiple revenue streams to generate income. For instance, the app might charge a commission from grocery stores, offer customers subscription-based benefits, and include sponsored listings or advertising opportunities for brands or products. The app can increase its profitability and adapt to different market dynamics by diversifying revenue streams. This model requires careful balance and management of various revenue channels.
Integrated Grocery Store Model
Some grocery chains develop their in-house delivery apps integrated with their existing infrastructure. These apps allow customers to order groceries directly from the store's inventory and utilize their existing logistics and fulfillment capabilities. This model provides complete control over the customer experience and allows for deeper integration with loyalty programs and promotions. Examples include Walmart Grocery and Kroger's ClickList.
Factors that Impact the Grocery Delivery App Development Cost
The cost of developing a grocery delivery app can vary based on several factors. Understanding these factors is essential for estimating and managing the overall development cost.
Factors Impacting Grocery App Development Cost
App Features & Complexity
Design & User Experience
Platforms & Devices
Backend Development
Admin Panel & Analytics
Location & Mapping Services
Payment Integration
Security & Compliances
Testing & Quality Assurance
Team Composition & Location
Maintenance & Updates
App Features and Complexity
The complexity and number of features in the app have a direct impact on development costs. Features such as user registration, product catalog, search functionality, shopping cart, payment integration, order tracking, push notifications, and customer support contribute to the app's complexity. Advanced features like real-time inventory management, integration with third-party APIs (e.g., payment gateways, mapping services), and machine learning algorithms for personalized recommendations can significantly increase development costs.
Design and User Experience
A well-designed and intuitive user interface (UI) and user experience (UX) are crucial for the success of a grocery delivery app. The design phase includes wireframing, prototyping, UI/UX design, and iterative testing. Complex designs, custom animations, and interactive elements can increase development costs.
Platforms and Devices
The choice of platforms significantly affects the development cost. Developing a grocery delivery app for iOS and Android platforms requires more effort than developing a single platform. Additionally, the cost may increase if the app needs to be optimized for different devices, screen sizes, and resolutions.
Backend Development
The backend development of a grocery delivery app involves setting up servers, databases, and APIs and integrating various services like payment gateways, mapping services, and push notifications. The complexity of the backend infrastructure, scalability requirements, and integration with third-party services can impact the development costs of the grocery app.
Admin Panel and Analytics:
An admin panel is crucial for managing various aspects of the app, such as product management, order tracking, user management, and analytics. Developing a robust and user-friendly admin panel with comprehensive analytics capabilities adds to the development costs of the grocery app.
Location and Mapping Services:
Integration with mapping services to provide accurate address verification, location tracking, and route optimization is essential for grocery delivery apps. These services often involve costs based on the number of API calls or premium features.
Payment Integration:
Integrating secure and seamless payment options into the app, such as credit/debit cards, digital wallets, or online banking, requires additional development effort and may involve transaction fees or charges imposed by payment gateway providers.
Security and Compliance:
Grocery delivery apps deal with sensitive user data and payment information. Implementing robust security measures, encryption, compliance with data protection regulations (e.g., GDPR), and regular security audits can increase the development costs of grocery apps.
Testing and Quality Assurance:
Testing is crucial to ensure app stability, functionality, and performance across different devices and operating systems. The more comprehensive the testing requirements (e.g., unit testing, integration testing, user acceptance testing), the higher the development cost.
Team Composition and Location:
The cost of app development is also influenced by the composition and location of the development team. Rates vary based on the expertise and experience of developers, designers, QA engineers, and project managers. Development costs can differ significantly depending on whether the team is in-house, outsourced, or a combination of both and the geographical location of the team.
Maintenance and Updates:
After the initial app development, ongoing maintenance, bug fixes, updates, and feature enhancements are necessary to keep the app functioning smoothly and up to date. Planning for post-development support and factoring in the associated costs is crucial.
Evaluating the Grocery App Development Cost
Now that you know all the factors that can help to determine the cost of developing a grocery app, let's evaluate the figures to give a clear idea about your project.
| | | |
| --- | --- | --- |
| Development stage | Hours | Cost in USD |
| Idea discovery & validation | 80 – 100 | 2,000 – 3,000 |
| Prototyping & UI/UX design | 100 – 120 | 5,500 – 7,500 |
| Project management | 160 – 200 | 7,200 – 9,000 |
| iOS development | 500 – 700 | 25,000 – 40,000 |
| Android development | 600 – 800 | 25,000 – 35,000 |
| Backend & API integrations | 400 – 500 | 15,000 – 20,000 |
| QA & Testing | 150 – 200 | 7,500 – 8,000 |
| Total | 2,000 – 2620 | 87,200 – 122,500 |
The prices may fluctuate or vary according to your requirements. Still, you can use these stats to take an idea for a particular budget to build your grocery delivery app. We have mentioned in Dollars for Currency Standardization. For Indian rupees, you've to convert to INR (₹). Also, consult mobile app developers for the exact price, the stated above price is only for your evaluation. 
How can GSA Techworld Help you Build a Grocery Delivery App?
Grocery has obtained a firm reputation in its niche, and consumers benefit from its grocery delivery solutions. To build a grocery delivery app, you can utilize this guide effectively and get the best idea for the overall development. At GSA Techworld, a mobile app development company in Bangalore, we follow the DevOps methodology to build refined end products. Our experts can help your business with the most advanced mobile app technologies. You just need to share your vision, and we will implement the right solutions. Check out the app we built for a Startup.